Article written by Lacie Blankenship of Vanderbilt University's Owen Graduate School of Management. Original article can be accessed here. Full text of the article can be found below.
Students create and pitch original business models with a goal of generating 500 jobs in the Middle Tennessee region.
By Lacie Blankenship
"The pitch competition allows participants to work on projects with students from various Vanderbilt programs; a number of unique perspectives influence the end outcome and create some very innovative solutions," says Vedanti Shah, TFC Social Startups Chair.
The competition consists of 4 teams of 3 or 4 students that compete to best address this year's theme: "Create positive impact by generating 500 jobs in Nashville (or Middle Tennessee region) through a profitable business model by 2024."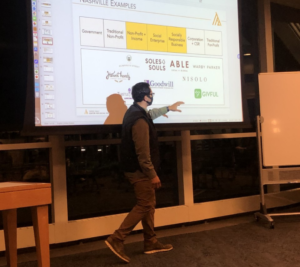 Students are allotted nearly 3 weeks to "immerse themselves in the challenges related to workforce development and learn about business models that can address social disparities in employment while engaging in pitch preparation sessions and coaching," according to Kathleen Fuchs Hritz, Assistant Director of the TFC.
The competition concludes with final pitch presentations to a panel of Tennessee-based entrepreneurs, civic leaders, and judges at Averbuch Auditorium. All Vanderbilt students are welcome to attend the pitches.
The competition offers participants a chance to learn more about Nashville and build stronger ties with their community, gain experience working on teams with quick deadlines, and invaluable experience working hands-on to solve social problems through a business lens.
"The TFC finds immense value in giving students the opportunity to ideate on solving real social challenges in this ever-changing global environment and this pitch competition serves as the perfect platform to do so," says Emmy Banks, TFC Social Startups Committee member.
"As one-year graduate students, my team is looking to expand our civic engagement and involvement within the Nashville community and see the pitch competition as a great learning experience," says Ethan Tang (MSF'22), who participated in the competition. "We're hoping to investigate equity issues within Nashville and create jobs in the most marginalized communities, where we believe will have the largest social impact."